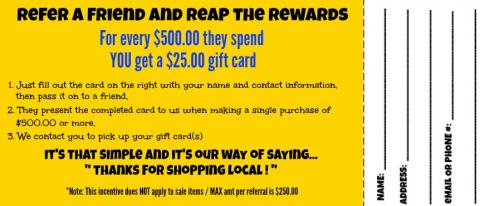 You may receive one of these in the mail, "Please don't throw it out!"
Put your name on the card and pass it on to someone who may be purchasing items we sell.
They bring in the card when making a purchase of $500.00 or more and YOU will receive a Visa gift card!
For every $500.00 they spend, you get $25. (max payment per referral is $250.00, and this does not apply to sale/discounted items)
You can also put the name of your favorite charity/ non-profit on the card and they will be the recipient of the referral reward.
All the instructions are on the card. If you didn't get one in the mail, you can get one at our store.