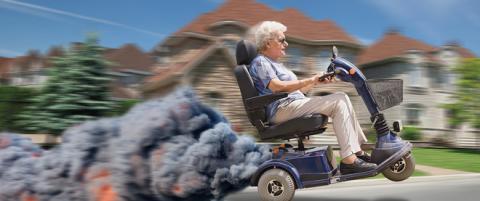 Free Workshop Date: Monday, June 3, 9:30 am – 12:00 noon at Glenwood Centre
If you operate a mobility scooter, or will do so in the future, then this event is for you! Driving a motorized scooter is easy right? Just hop on, turn the key and go, but as with any moving vehicle there are always potential hazards.
During this event you will receive helpful reminders for navigating safely in and around urban environments and receive lessons to improve your skills.
Presentations and hands-on demonstrations will be delivered by local driving instructor, Ian Arklie of Pacific Rim Driving School and the Port Alberni RCMP.
Rodeo participants will have the opportunity to be guided through a set course that is designed to improve driving skills and help instill good driving habits. Included in the instruction will be sessions on balance, braking, lane positioning, turning and collision avoidance.
If you don't have a scooter, there will be some available to use, compliments of The Comfort Zone Mobility Aids & Spas.
This workshop will be a fun filled and informative look at driving safely. It will improve skills and help you understand what style of mobility scooter is best suited for you.
 
This Scooter Rodeo is free of charge but we do require participants to register. If you are interested in registering for this workshop, please sign up at the Echo Centre front counter or call 250 723-2181.