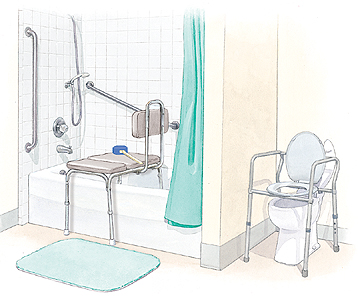 By Linda Norton, BSc OT, OT Reg (Ont)
Every year, close to 180, 000 Canadian adults over age 65 fall and injure themselves. Many of these falls occur in the bathroom. It's easy to see why. With smooth tiles and a little bit of water, bathrooms can quickly create a slippery situation. Understandably, asking for help can be embarrassing or difficult, particularly as many of the tasks that occur in this room are so personal. Though it may be tempting, trying to do everything independently, regardless of how safe or unsafe it may be, can easily lead to a serious accident or fall.
Quick tip
If you think a bath seat or bath bench may be helpful but you're reluctant to buy one, consider renting it instead. Renting will allow you to try the device and see for yourself just how helpful this equipment can be.
Get a grip
To play it safe in the bathroom, consider that, although tempting, towel bars and soap dishes should not be used to steady you. These fixtures have not been mounted to support your weight load, and they can easily be pulled from the wall. Using these fixtures often starts subtly, with a hand resting on them occasionally, and then becomes a regular occurrence. If you find yourself touching these items to steady yourself, it is time to consider a grab bar.
Consider where in the bathroom you tend to need support to help you determine which style of grab bar you need. Helpful places to consider mounting one include at the edge of the tub. It is often helpful to mount a grab bar on the wall, perpendicular to the floor and in line with the tub's edge. You can then face and hang on to this bar when getting in and out of the tub. Keep your hip straight and bend your knee backwards to step sideways into the tub. Using this method, you do not need the strength to lift your whole leg, and it may be easier to keep your balance. Clamp on tub rails mounted to the side of the tub can help you move from sitting to standing, or to steady yourself while you're standing, and transferring in and out.
Grab bars come in a variety of styles and lengths, depending on your needs. Types of grab bars include:
Suction mounted. This type adheres to the tile in the tub or shower area, and can be easily removed. It is not designed to hold your body weight but rather to help steady you. It is important to follow the manufacturer's directions during installation and to check the bar on a regular basis to ensure continued adherence. For people who travel, this type of bar can be installed easily in hotel bathrooms, provided there are large tiles in the bathroom area.
Tub mounted. This type mounts to the side of the tub with a clamp. It is important to speak with a sales representative or read the manufacturer's literature carefully as not all tub-mounted grab bars fit on all tubs. Tub-mounted grab bars are easily removed and do not damage the tub itself.
Wall mounted. To mount this type of bar, holes are drilled into the tile and wall. These bars become a permanent fixture and when mounted correctly can enable you to more easily move from sitting to standing.
Adjustable Bath Seat with Back
Maintaining your balance while in the shower or tub can also be a challenge, so using a hand-held shower and sitting on a bath stool or bench is usually recommended. Several different styles are available. If you have a fiberglass tub, check with your sales representative, as some stools/benches may damage the tub depending on the weight placed on them.
Shower stools
There are a variety of stools that are usually adjustable, most are adjustable in height. They may come with or without a back support. This type of equipment is most appropriate for people who are able to get into the tub when standing, perhaps with the help of a grab bar. They can be easily removed when someone else wants to use the tub or shower.
Transfer Bench
Transfer benches extend from inside the tub or shower to the outside. These are usually height adjustable and usually come with a back support and inside hand rail. The primary advantage is you can sit on the bath bench while outside the tub, and then place your legs into the tub. The disadvantage is transfer benches are usually heavier than shower stools, so although removable, they may be more difficult for others to remove when they want to use the tub or shower.
Bath lifts
A Bath Lift sits inside the tub and with a waterproof remote control they will lower you down into the tub and then raise you back out when you are finished bathing. There are models that have a reclining back so that you can stretch out a bit more once in the tub. A bath lift will take up some room in the tub, so best to have some measurements first. Another option is to rent one and try it out. Also it is important to check the device's weight capacity to ensure it can lift you safely. These devices are also usually more cumbersome to remove from the tub and are much more expensive than either a bath bench or bath seat.
Quick tip
If you have trouble keeping your balance, cleaning a bathtub can be a problem. Buy a long-handled tub scrub, which will enable you to clean the tub and tiles without stretching.
Keep dry
Long-handled sponges and foot scrubs help you reach all of your body while bathing. Long-handled sponges come in different shape and sizes, with different handle lengths. Before purchasing one, make sure you can maneuver it in such a way that you can reach your back and legs. Foot scrubs attach to the bottom of the tub. Suction cups for the soap and foot pads are on either side. Rubbing your foot alternatively on the soap and then the foot pad will help you clean the bottom of your feet. This way, you don't need to reach down to wash them, and potentially lose you balance.
To dry off after bathing, wear an absorbent robe, which will help dry some of the hard-to-reach places, such as your back. Also, sit down to dry yourself off. You can place a towel on your rollator (if you use one) and sit there to dry your legs and feet. You could also rest on the lid of the toilet seat or a small chair.
Finally, while bathing, have someone else at home if possible. That way if you have any difficulty, you'll have someone nearby who can help. If arranging for someone to be at home with you isn't possible, consider investing in an alert system. This type of system usually comes with a pendent or wrist band with a button. If you fall or have difficulty, you can push the button to alert a call center. Staff at the center may be able to speak to you directly to help and or call your pre-authorized list to summon help.
Unfortunately, accidents do occur in the home, and the bathroom is the most frequent place for them to happen. By considering your health needs, you can buy the right devices to help you maintain your independence and stay safe in the bathroom.