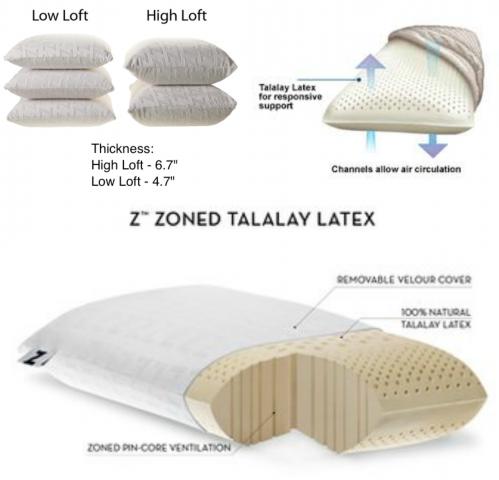 Talalay latex pillows provide uplifting support to your neck and bottomless pressure relief for your head. When you rest your head on a Talalay pillow, your head and neck will be cradled as the pillow conforms to you, giving you a more buoyant feel. Our luxurious Talalay pillows come in high profile and low profile designs. A high profile pillow is ideal for a side and back sleeper and a low profile pillow is good for stomach sleepers.
6 Reasons to Choose Talalay Latex
It's Healthy
Our Talalay latex is Oeko-Tex certified as Class I, the highest rating possible. This certification verifies our products are free from harmful substances and is even safe for babies. Very few latex or foam producers in the world meet the standards of this independent, third-party certification. Even our adhesives are water-based and free of solvents.
It's Breathable
Mattresses and pillows made of Talalay latex breathe up to seven times better than other types of latex or foam products, allowing for cooler sleep. The materials in most mattresses and pillows don't allow body heat to dissipate, which can interrupt your sleep, but Talalay latex has a breathable design and cell structure that creates a temperature neutral environment.
It's Hypoallergenic
Talalay latex is ideal for people with allergies and asthma. It is naturally mold, mildew and dust mite resistant and is inherently antibacterial and antifungal.
It's Environmentally Friendly
The Talalay process features natural, biodegradable ingredients that come from renewable resources and water-based raw materials: natural latex, air and water. The rubber trees are not harmed in the latex harvesting process. In fact, they are productive for 25 years, absorbing carbon dioxide from the atmosphere and helping to reduce greenhouse gases. We are also mindful of our energy and water consumption during the manufacturing process. Our manufacturing automation optimizes energy usage for the molding stage and our state of the art factory features energy efficient lighting. Our multi-stage washer has been engineered so it minimizes the amount of water consumed without reducing the quality of the finished product.
image description It's Made in the USA
Our manufacturing facility is based in Shelton, CT, USA.
It Doesn't Off-Gas
Talalay doesn't off-gas like synthetic foam or polyurethane. You may notice the "new bed smell" of the latex when it first arrives, but you can rest assured that no harmful chemicals are being released because Talalay is made of only natural ingredients.
More information on Talaly Latex http://www.talalayglobal.com/quality/