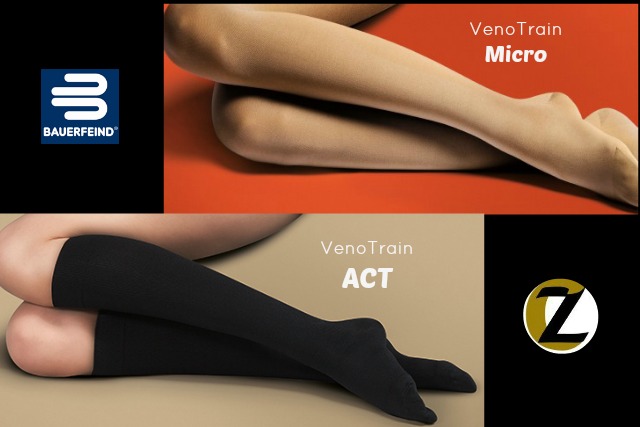 Compression therapy solutions
 
VenoTrain® compression therapy is designed to provide long term medical effectiveness, excellent wearing comfort and great looks. The assortment includes different designs, colors and compression levels to fit different life styles of all walks of life.
 
Manufactured with premium quality double covered yarns, all VenoTrain products are designed to provide controlled gradient compression providing maximum pressure at the ankles, decreasing gradually going up the leg.
VenoTrain provides effective relief for a wide range of conditions, from tired, achy legs and varicose veins to more severe problems such as chronic venous insufficiency. 
The classic version: VenoTrain MICRO
Bauerfeind's most popular compression stocking is the VenoTrain micro. Made with 50% microfiber, it is particularly soft and gentle on your skin. Moisture is transported away and air can circulate to your skin, preventing any unpleasant build-up of heat. The comfortable, elastic knit stimulates blood circulation, relieves your veins and has a contemporary stylish look. This stocking is available in a wide variety of designs and nine classic colors to match the needs of people with different preferences and life-styles.
protects against varicose veins 
with a comfort sole 
in standard sizes or custom-made
Feel the effects of wellbeing
If you are on your feet a lot or have to stand for longer periods of time, you will enjoy the benefits of VenoTrain® micro. The compression effect significantly relieves pressure in your lower legs. VenoTrain® gradient compression is designed to start at the ankle and gradually decrease going up the leg allowing for optimum support and circulation. The high microfiber content makes this compression stocking exceptionally soft and gentle. It also makes is easy to put on. You will not perspire under it and sufficient air can always circulate to your skin. 
Good to your foot
The high level of wearing comfort offered by the VenoTrain micro begins at the foot: the comfort sole provides special pressure relief zones at the heel and the ball of the foot. The foot is stabilized with the help of elastic expansion zones in the middle of the sole. These are invisibly integrated into the anatomical fit of the foot section.
Quality from your medical retailer
VenoTrain® compression stockings and other Bauerfeind products are available from specialist medical supply and orthopedic retailers. Here, trained staff will advise you, take precise measurements and ensure that your compression stockings fit correctly for optimum comfort and therapy.
 
 
VenoTrain® act
All VenoTrain® Act, stockings provide 15-20 mmHg Graduated Compression. The following symptoms are common indication for the use of these products:
Discomfort from spider veins
Relief from minor leg swelling
Relief of tired aching legs
Relief of leg discomfort during pregnancy
Minor varicose veins For more severe venous conditions, please consult with your physician for Bauerfeind compression stockings above 15-20 mmHg.
Elegance for your legs – redefined
All VenoTrain® Act, stockings provide 15-20 mmHg Graduated Compression. VenoTrain® Act, graduated support stockings are as comfortable to wear as premium fashion hosiery. They are an effective tool in the fight against heavy and swollen legs. They are offered in a wide range of styles, materials and colors in order to suit everyone needs and tastes.
pleasant, breathable knit fabric 
fine, transparent quality 
invigorating effect
Sheer Elegance
A radiant look for your legs, thanks to its elegant and sheer appearance, this stocking combines graduated compression effectiveness with a highly attractive look. Women are sure to love this fashionable stocking that comes in a wide range of colors and styles.
Cotton
With a cotton content of over 50 %, this stocking guarantees perfect wearing comfort and is available in four classic colors that will be sure to please men and women alike.
Micro
The high microfiber content ensures that the stockings feel exceptionally light on the skin while providing optimal temperature regulation. This stocking is available in men and women shoe sizes.
Maternity
As your body changes and your baby develops, your legs change too. This can sometime lead to some undesirable side effects, such as heavy, swollen legs or even varicose veins. Maternity support stockings can help to prevent these symptoms.