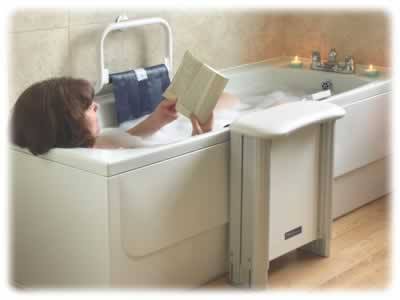 A bath lift is a moderately inexpensive way of allowing a bather to comfortably and safely transfer into their bath and lower themselves in for a nice hot soak!
There are many different versions of bath lifts but all do the same thing. You side on the side of your tub, slide across onto the seat that is set at the same level as side of tub, then press a waterproof remote button that will slowly lower you to the bottom of tub. When it's time to get out, just push the button again, and you will be raised up to the top of tub again ready to transfer out with ease. Most models are easily removed for other bathers who don't need the assistance.
The Comfort Zone offers a variety of brands. to choose from.  We also have a unit in the store that you can try out. If you're not sure if it will suit your needs, try our rental unit for a week. We hope you'll be pleased!